Freyeria trochylus
Grass Jewel
euroButterflies
by Matt Rowlings
copyright © 2003-2018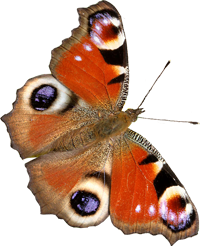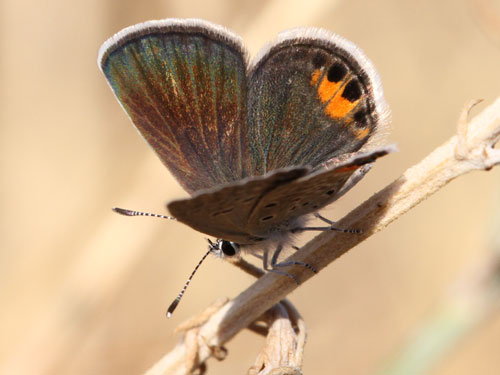 S Greece, June 2013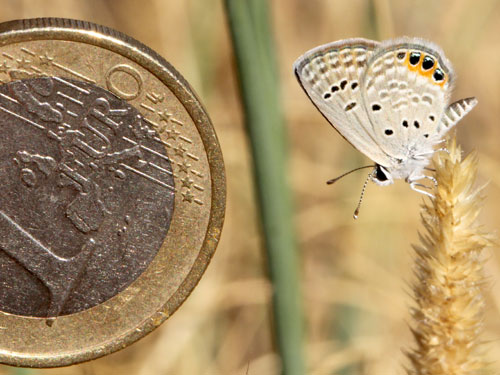 S Greece, June 2013
They are very small and discrete. Very easily overlooked.
Field notes and information
It's very tiny size and sedentary behaviour make it highly likely to be overlooked, or mistaken for a fly or small moth. The dull brown colouration is very difficult to pick up and follow in flight and even harder to spot when resting on the ground or on dry grass.
Outside Europe I've found a single butterfly in Turkey and a small but well populated colony beside a river beneath a road bridge in Goa, India.
Formerly known as Chilades trochylus.
Identification & Similar species: Distinctive. It is extremely small, brown and has orange marginal markings on both sides of the hindwing centred with a black spot. On the underside, each black spot has a shining blue arc - the Jewel of the butterfly's English name.
Distribution & Flight: In Europe, only from a few areas of Greece and several of the Greek islands. From March to October in a number of broods.
Habitat & Behaviour: Hot dry rocky grassy ground with sparse grasses. Disturbed ground and edges of cultivation. Attracted to flowers which in summer at least are commoner nearer water sources, ditches or roadside drains. I don't know if this is a habitat requirement though.
Variation: Strong variation in orange markings and the presence and extent of white markings on the upperside hindwing.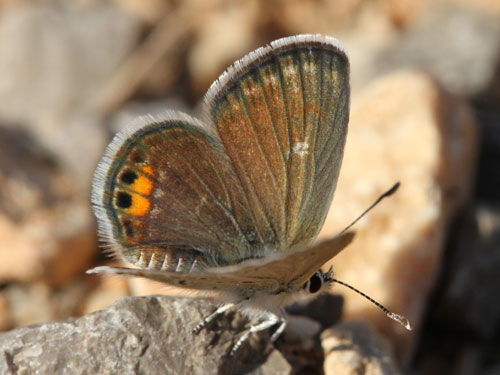 S Greece, June 2013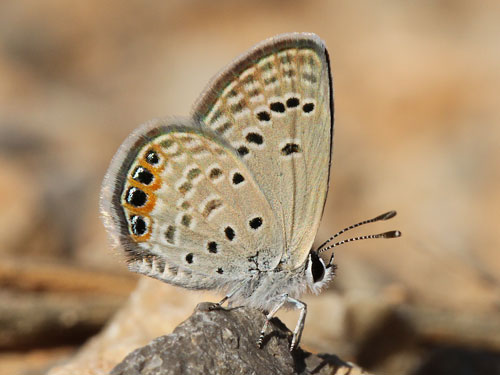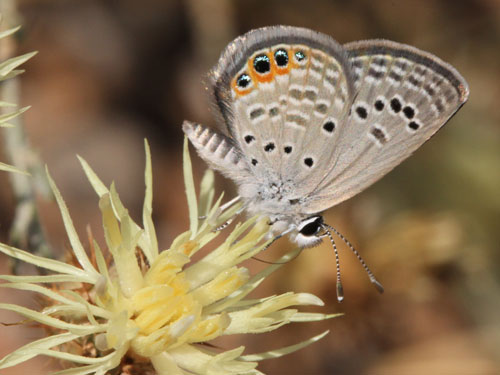 S Greece, June 2013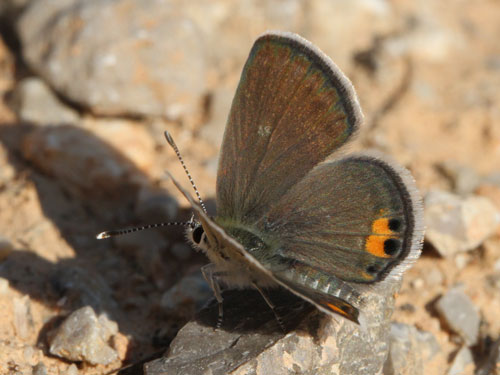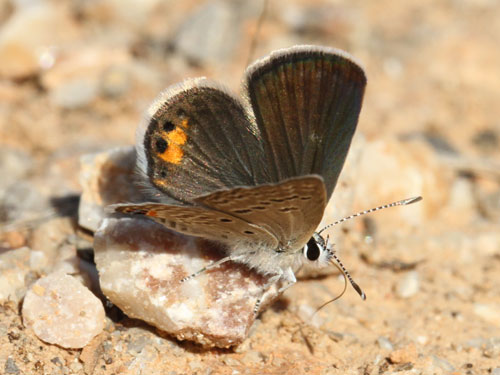 S Greece, June 2013
NW Greece, July 2016
NW Greece, July 2016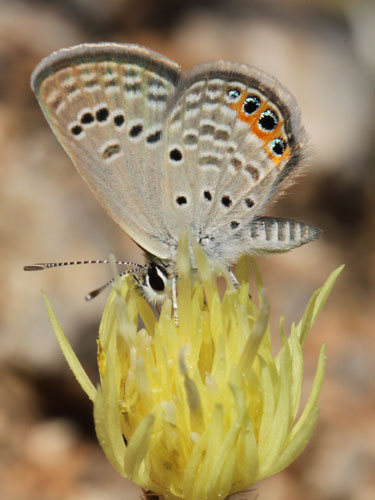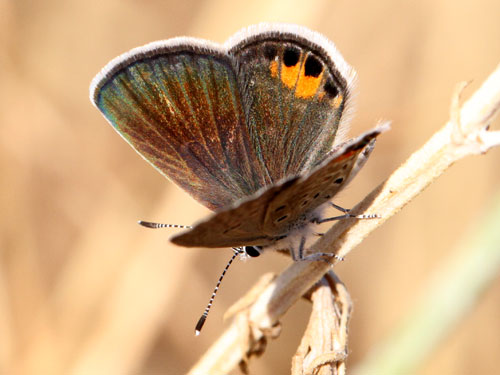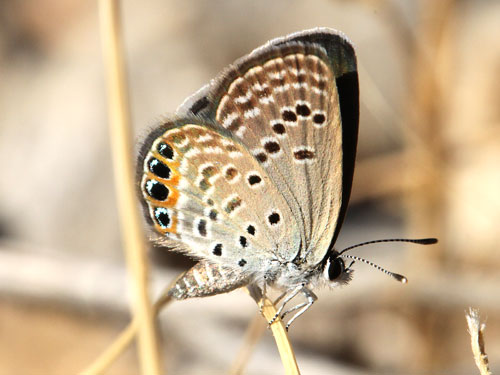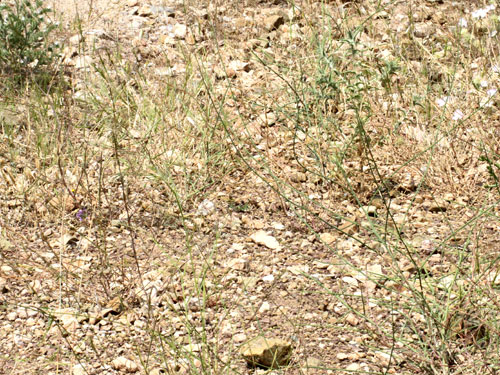 S Greece, June 2013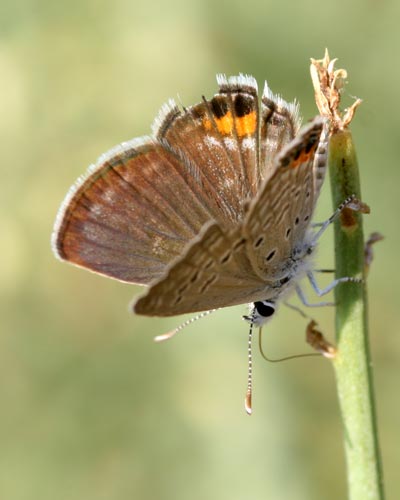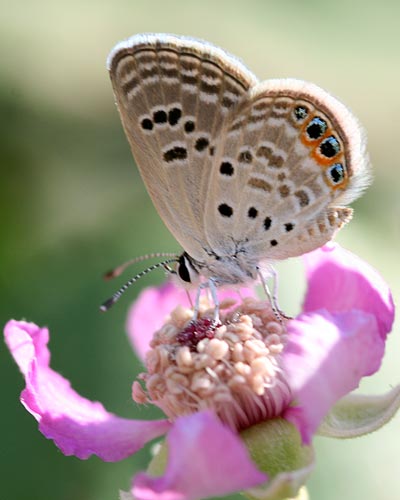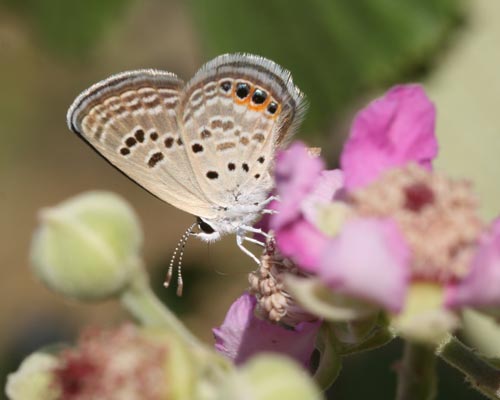 S Greece, July 2007
Male
NW Greece, July 2016
NW Greece, July 2016