Melanargia pherusa
Sicilian Marbled White
euroButterflies
by Matt Rowlings
copyright © 2003-2018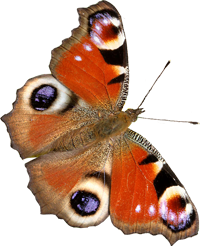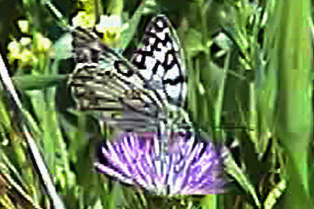 Sicily, May 2000
Captured from video.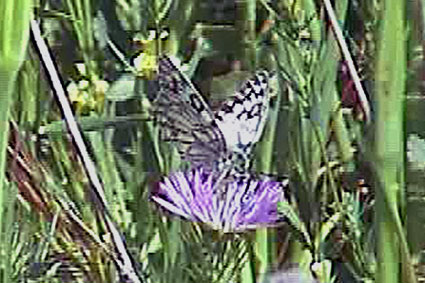 Sicily, May 2000
Captured from video.
Field notes and information
An endemic on Sicily. It was formerly considered a subspecies of the western marbled white M. occitanica. It may be an evolutionary intermediate between the western and the Italian marbled whites, M. occitanica & M. arge as it shows intermediate features of both species and the range is between the two species (Spain and main land Italy).
Identification & Similar species: The underside hindwing markings are fine and pale brown allowing it to be readily separated from other species of Melanargia on the island.
Distribution & Flight: Endemic to Sicily south of Palermo where it is very local. It flies in May and June.
Habitat & Behaviour: Open hills and slopes dominated by grasses. As all Melanargia it is strongly attracted to flowers.