Colias croceus
Clouded Yellow
euroButterflies
by Matt Rowlings
copyright © 2003-2023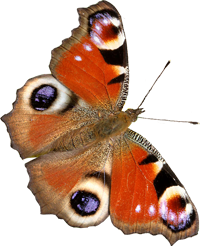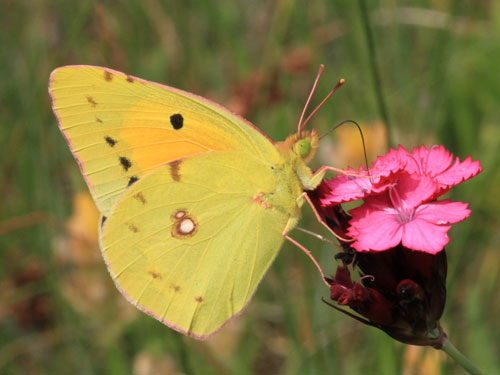 SE Serbia, June 2012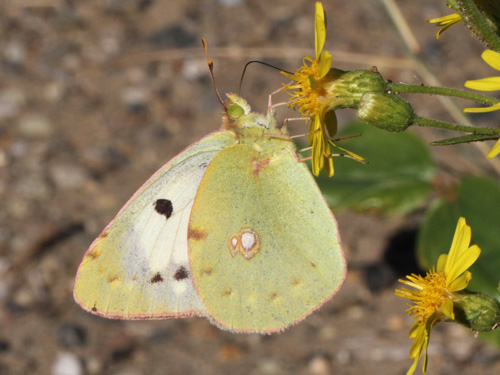 Malaga, Spain, October 2014
Field notes and information
A common sight across most of Europe, although only enjoying migrant status in northern Europe (UK, Scandinavia etc).
It has become resident at a few localities on the south coast of the UK in the last 10 years and is now a regular, albeit usually uncommon, sight in the UK. In the 1983 I remember an exceptional migrant year when I saw my first UK croceus. It was also the year I saw my first humming bird hawk moth, Macroglossum stellatarum, another rare migrant at the time. Both species have shared a dramatic increase in number of sightings in the UK. In 2012, Butterfly Conservation have over 10000 records of this moth.
Identification & Similar species: By a very very long margin, this is the commonest and most widespread of the orange clouded yellows. The best identification solution is to eliminate the other similar species, which is usually easy due to their extreme rarity and localisation.
Distribution & Flight: Throughout most of Europe, although a migrant in northern regions (UK, Scandinavia). Commoner at low and mid altitudes it can be found at alpine levels although this is rather unusual.
It flies in all months of the year given warm enough conditions. In Switzerland it is regularly seen from February to November when the sun is strong enough on a still sunny day to bring adults out of dormancy.
Habitat & Behaviour: It is a strong migrant and consequently is seen in many habitats as it wanders. Generally though it is a creature of flowery meadows and particularly fields of clover and lucerne which are larval food plants.
Variation: A white female form, helice, is frequently encountered. It is somewhat similar white females of other Colias species but can usually distinguished by heavy dark scaling on the upper hinding.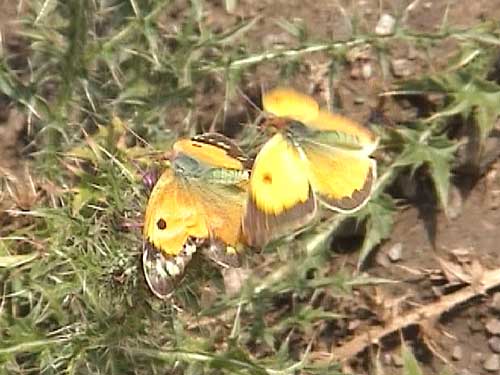 Macedonia, Greece, July 2000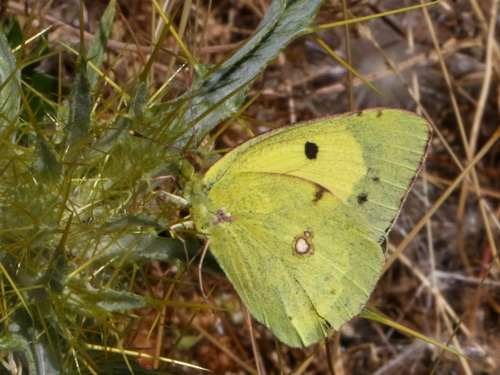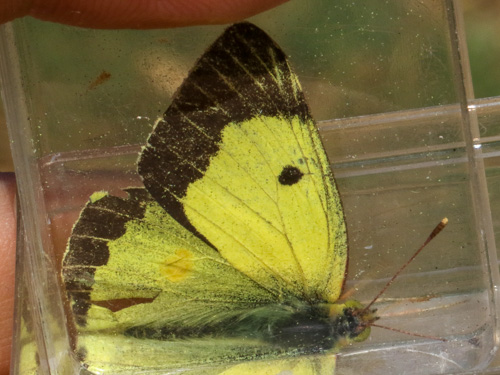 Samos, Greece, June 2018
Form cremonae, bright yellow upperside. Rare in Greece, relatively common in the Azores.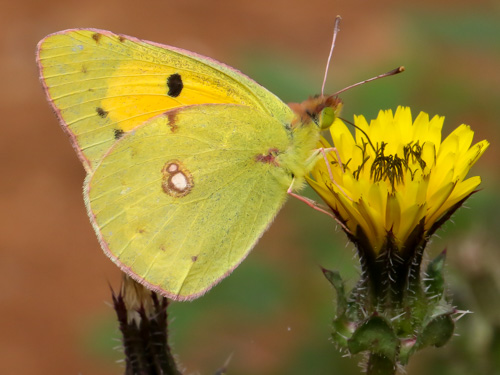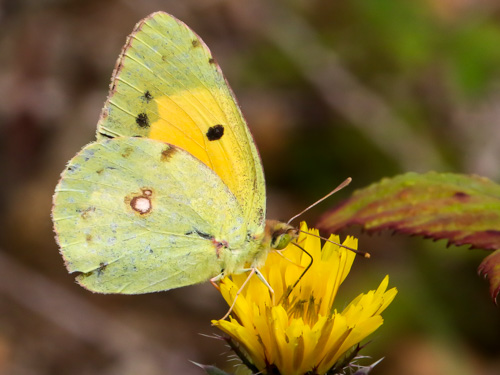 La Palma, Spain, August 2021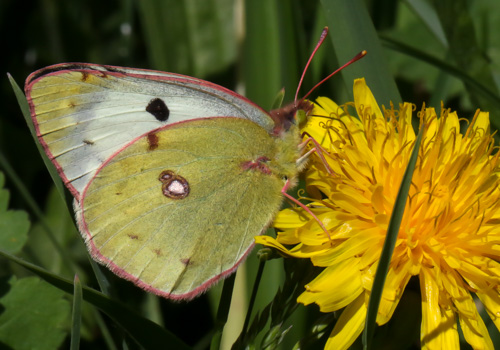 Valais, Switzerland, May 2022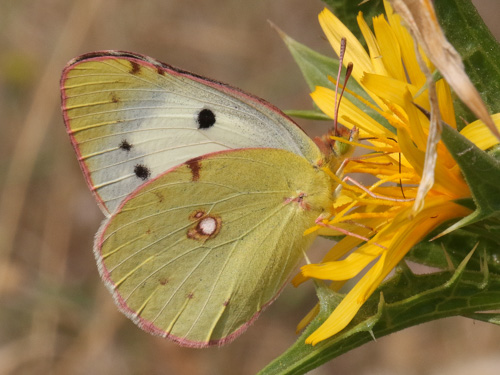 Samos, Greece, June 2018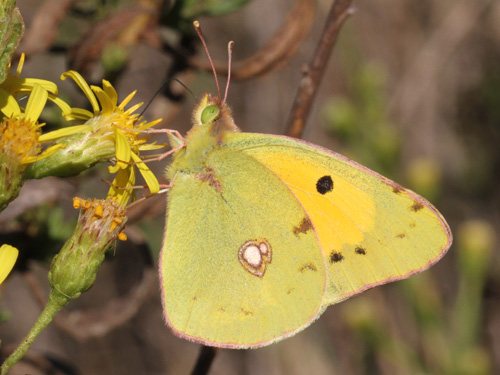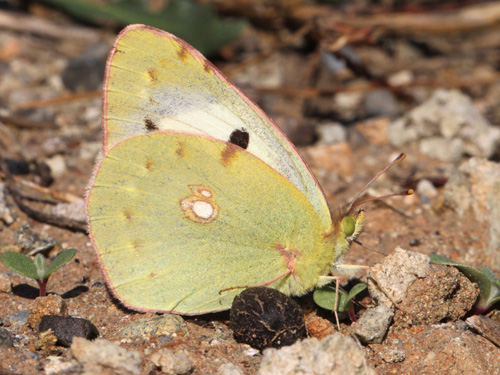 Malaga, Spain, October 2014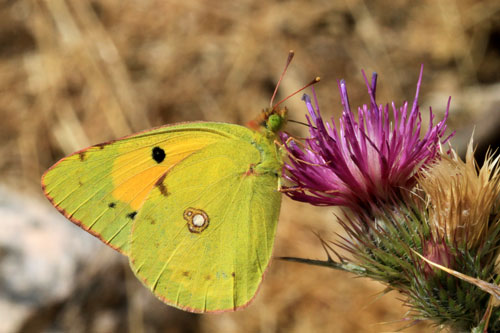 Madrid, Spain, July 2011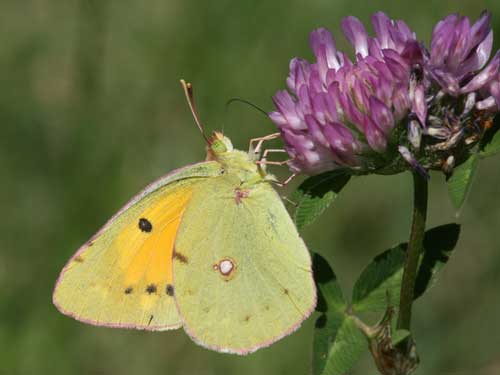 Bouches du Rhône, France, July 2009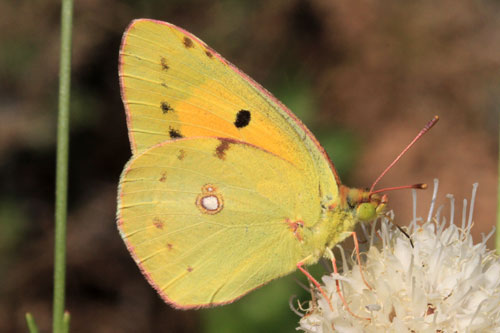 Madrid, Spain, July 2011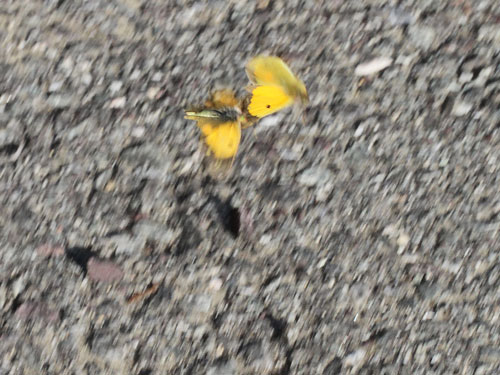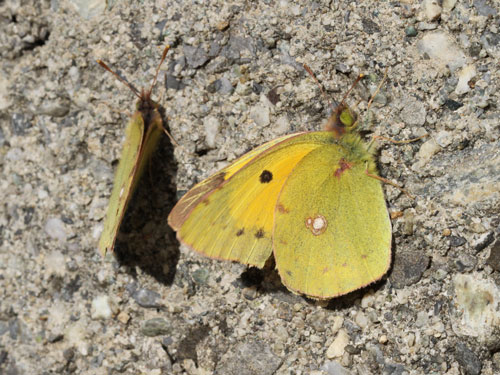 Valais, Switzerland, November 2010
Courtship.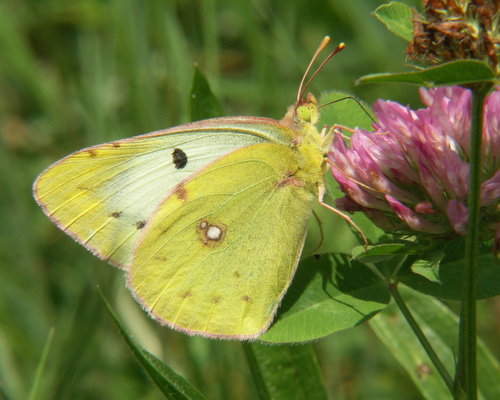 Vaud, Switzerland, July 2006
Female of the white form.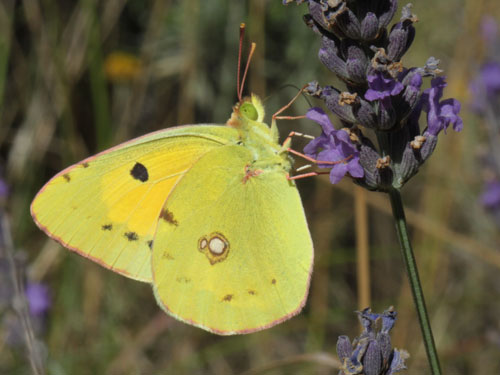 Var, France, July 2010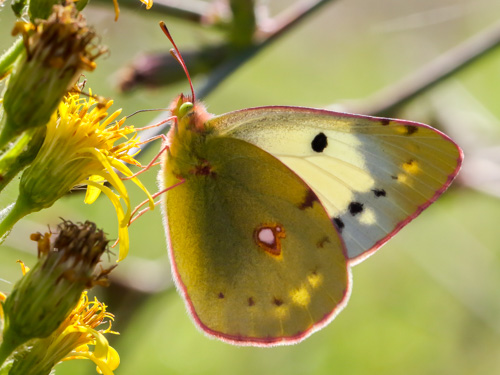 Coimbra, Portugal, October 2019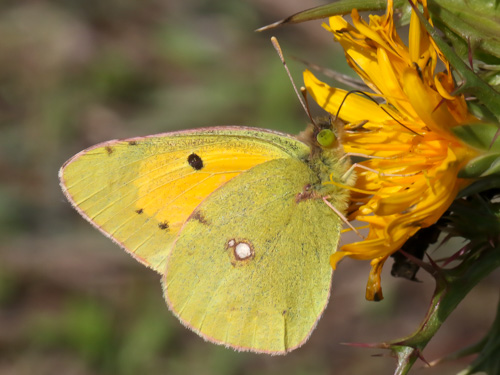 Coimbra, Portugal, October 2019